3-Minute Thesis (3MT) Competition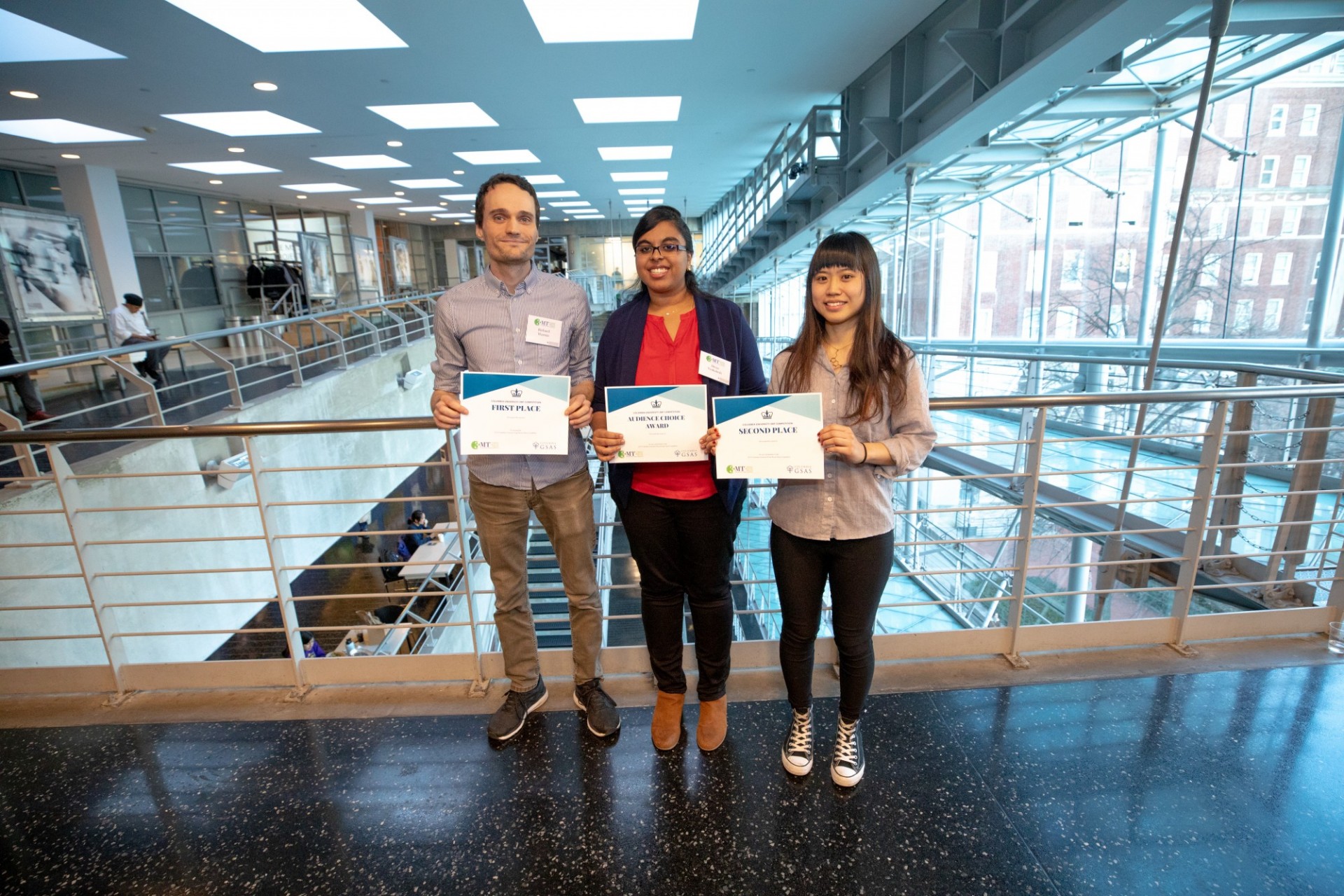 The 2022 Columbia University 3MT Competition, co-sponsored by the Graduate School of Arts & Sciences, the Fu Foundation School of Engineering and Applied Science, and Coordinated Doctoral Programs in Biomedical Sciences, will be held on February 4, 2022. All advanced doctoral candidates are invited to apply. 
Overview
The Three-Minute Thesis (3MT) competition showcases the research of Columbia's doctoral student community. Participants are challenged to share their research clearly and effectively with a broad, general audience in just three minutes.
3MT is an entertaining and instructive event that helps doctoral students to develop their presentation and communication skills, which are vital for academic conferences and a variety of careers. Through the competition, participants also have the opportunity to share their work with the Columbia community by presenting in front of an esteemed panel of University and alumni judges and a diverse audience.
The 2022 3MT competition will be held Friday, February 4, 2022, from 12:30 p.m. to 2:30 p.m. Cash prizes of $1,000, $500, and $250 will be awarded to the first-place, second-place, and audience-choice winners, respectively.
Eligibility
Eligibility is limited to advanced doctoral students currently enrolled in their first seven years of any Columbia PhD program. Applicants must have passed relevant milestones, such as a qualifying exam, prospectus defense, and/or MPhil conferral. Graduates are not eligible.
How to Apply
Applications for the 2022 3MT competition will be accepted until Sunday, December 5, at 11:59 p.m. ET. Click here to apply. Applicants must submit a project title and a concise project description (no more than 1,500 characters). Please write to Rachel Bernard at gsas-compass@columbia.edu with any questions.
Review process:
Completed applications received by the deadline will be reviewed by an internal committee. Applications will be evaluated for clarity of expression and ability to engage a nonspecialist audience.
Those selected to continue as semifinalists will be invited to complete a recorded video interview in mid-December.
Those selected as finalists will be notified before winter break. Finalists will attend a preparatory workshop conducted over Zoom in mid-January and must be able to present live at the competition on February 4.
Previous Winners
2019:
First Prize: Richard Warren, Neurobiology and Behavior
Machine Learning Reveals Hidden Beauty in Animal Behavior
Second Prize: Wei-Li Lee, Chemistry
Fluorescent Chemicals to Image Serotonin Release
Audience-Choice Award: Divya Venkatesh, Biological Sciences
Identifying New Molecular Pathways that Alter the Antitumorigenic Ability of Ferroptosis
2018:
First Prize: Sean O'Neil, History
The Art of Signs: Symbolic Notation and Visual Thinking in Early Modern Europe
Second Prize: Bailey Brown, Sociology
Kinder Panic: School Selection and Parental Uncertainty
Audience-Choice Award: Jyotirmoy Mandal, Applied Physics and Applied Mathematics
Using the Sky to Cool Buildings