GSAS Master's SynThesis Competition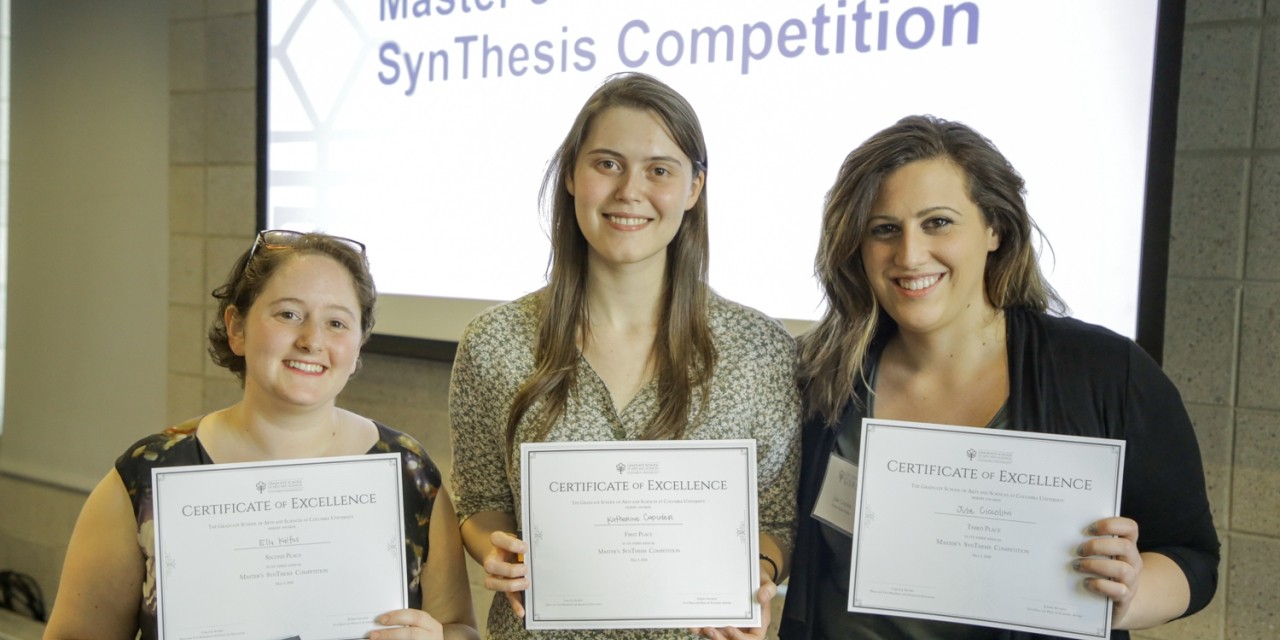 Established in 2016, the annual GSAS Master's SynThesis competition is an opportunity for MA students from across the Arts and Sciences to showcase their research and presentation skills in a relaxed and collegial environment. First-, second-, and third-place awardees receive prizes of $500, $300, and $200, respectively. 
The 2021 competition will be held on Friday, April 16, 2021 from 3:00 to 4:30 pm on Zoom.
The Challenge
Present your thesis research to a general audience in under three minutes using a single slide.
Apply here. Applications are due Sunday, March 21 at 11:59 pm. Applicants must complete a brief online form and submit a 300-word abstract.
Please write to gsas-compass@columbia.edu with any questions.
A single static PowerPoint slide is permitted (no slide transitions, animations. or movement of any type).
No additional electronic media (e.g., sound and video files) are permitted.
No additional props (e.g., costumes, musical instruments, laboratory equipment) are permitted.
Presentations are limited to three minutes maximum. Once three minutes is reached, the presenter will be muted.
Applicants must be:
Currently enrolled in an Arts and Sciences MA program, or must have graduated from an Arts and Sciences MA program no earlier than May 2020
Working on a thesis based on original research
Available to attend the competition on Friday, April 16 from 3:00 to 4:30 pm, as well as a preparatory workshop the week of April 5.
To apply, applicants must submit a 300-word project abstract. Applications go through two rounds of review to identify finalists. In the first round, all submitted abstracts are reviewed by a GSAS staff committee, which will select the semi-finalists. In the second round, semi-finalists will have 20-minute Zoom interviews with the review committee during the week of March 29.
Between 12 to 15 finalists will be selected to present their research to a general audience and a multidisciplinary panel of judges. Finalists must participate in a preparatory workshop with GSAS staff prior to the competition. The workshop will be offered the week of April 5.
At each stage of review, applicants will be evaluated based on the following criteria:
Comprehension and content
Depth and appropriateness of background information, description of the research question, and its significance
Clarity and significance of research results, conclusions, and outcomes
Logical organization of arguments and ideas
Communication and engagement
Project is communicated in language appropriate to a nonspecialist audience, avoids jargon, and adequately explains technical concepts
Research is communicated with enthusiasm and in an engaging manner
Presentation (for finalists)
Quality of delivery of oral presentation
Quality of the slide: Does it enhance the presentation? Is it clear, legible, and concise?